SMT Off-line AOI Machine ETA-V8
SMT Off-line AOI Machine ETA-V8 Description:
SMT Off-line AOI Machine ETA-V8​
If you could not find any similar items you want, you may send some photos to us. because our catalog and website haven't included all of our products.
solder paste inspection,SMT SPI,SPI machine, SPI inspection,solder paste inspection machine,SMT AOI,AOI machine,SMT AOI machine,PCB AOI machine, PCBA AOI
We are professional SMT/DIP manufacturer for reflow oven, SMT solder paste printer, pick and place machine, SMT conveyor, PCB loader unloader, SMT production line, PCBA conformal coating machine, LED production line, wave soldering machine, PCB cutting machine, PCB cleaning machine, SMT AOI/ SPI, laser making machine, etc. SMT equipment.
Welcome to Contact Us at Any Time for Further Information.
Email: etasmt@foxmail.com
Mobile : +8613670124230 (WhatsApp / Skype / WeChat)
❙ Introduce of Off-line AOI Machine
Automatic DIP AOI visual inspection,can quickly and accurately PCBA defect,and the automatic positioning,completely without manual intervention,free eyes free hands,help DIP wave soldering production automation,improve quality,improve efficiency and reduce the cost of higher.
Features:
1.Top and bottom shoot structure achieves seamless connection with wave soldering machine,No need auto panel turnover machine or manual turnover,save time and labor.
2.LOG automatic collecting and storage function,NG warning/alarm function, Remote programming&debugging.
3.Inspection ability:insufficient,short,slodering hole,solder covering pin,contamination,misalignment,missing part,skewed,billboard,mounting on side,overturn,wrong part,damaged,float,polarity,pseudo soldering,empty solder,excessive glue etc.
4.Perfect SPC collects NG information off line and generates all kinds of production tables automatically.
5.Mature control center function,clear software interface.
6.Good stability(GR&R<10% @6 Sigma,CPK>1.33(Test deviation accuracy less than ±0.25mm.
7.Camera move,conveyor fixed during test.
8.PCB warpage conpensation:total Mark compensation calibration,conponent position frame compensation.
❙ Specification of Off-line AOI Machine
Model
ETA-V8
ETA-V8XL
FOV
15u(38.4*28.8mm)
Camera
5M pixel intelligent digital industrial camera
Lens
Telecentric lens
Light
4 color ring LED light,RGB+W
Inspection Item
Component test, soldering test
Mini Component
03015chip,0.3pitch IC and Special shaped
PCB Size
50*50~430*330mm
50*50~650*510mm
PCB Thickness
0.3 ~ 6.0mm
PCB Warpage
±3.0mm
PCB Weight
Max:10Kg
PCB Height
Top:25-60mm,Bottom:25-80mm adjustable
Platform
Granite
Communication
SMEMA
Weight
500Kg
600Kg
Dimension
880*1170*1350mm(excluding the light)
1080*1470*1370mm(excluding the light)
❙ ETA Customer Factory
▽ Russia SMT production line (smart appliances)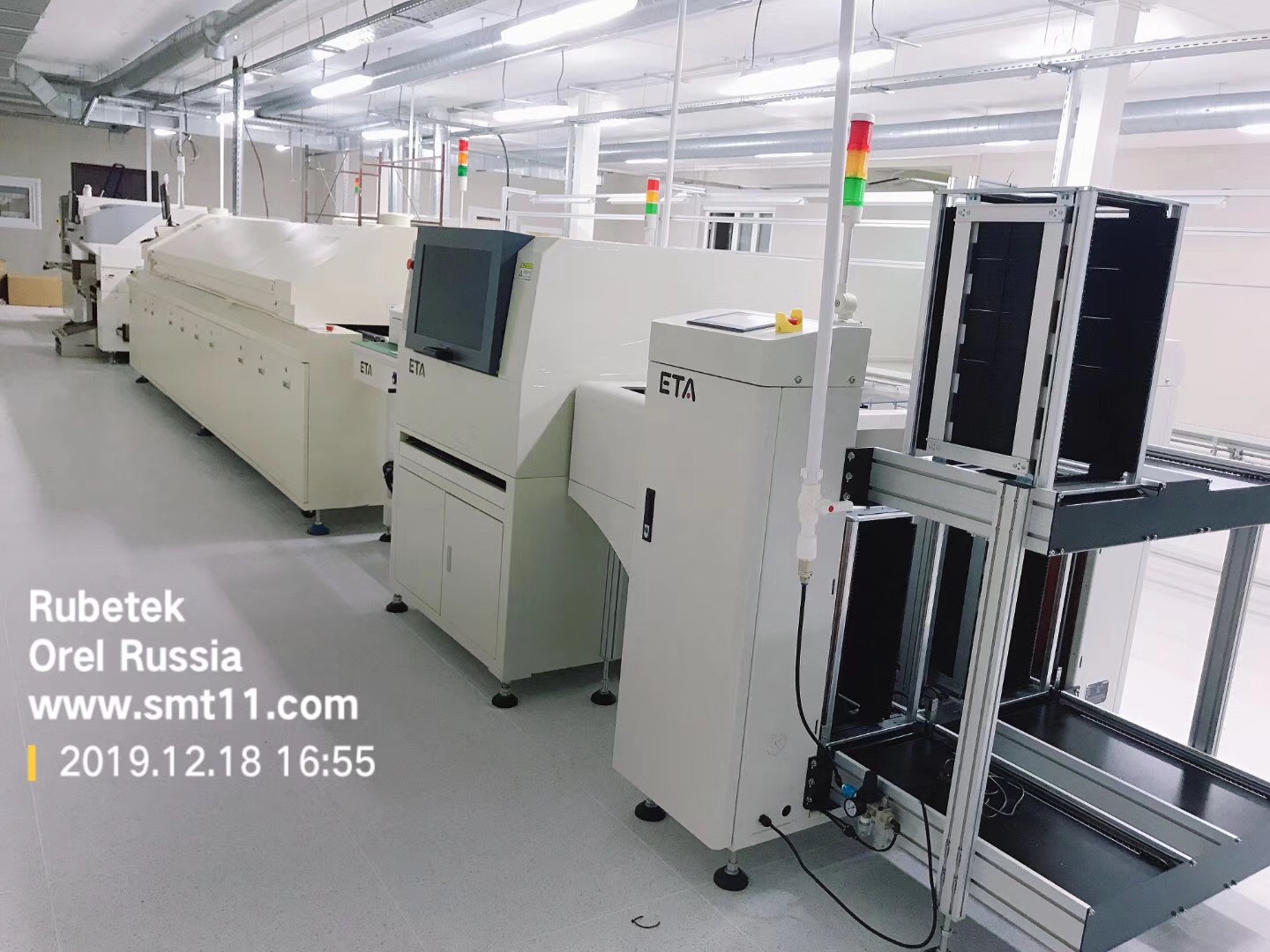 ▽ Algeria LED TV production line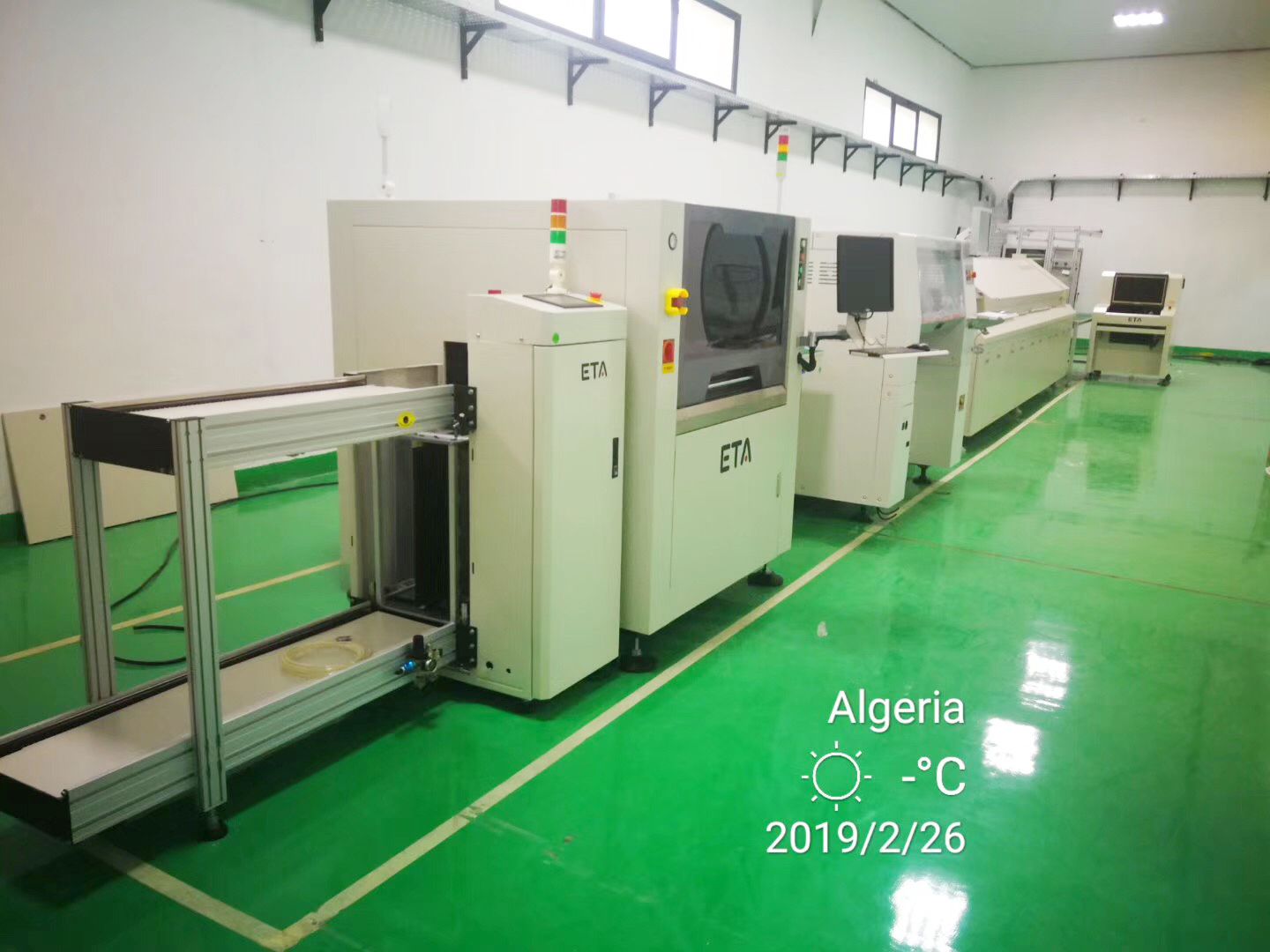 ❙ Company Profile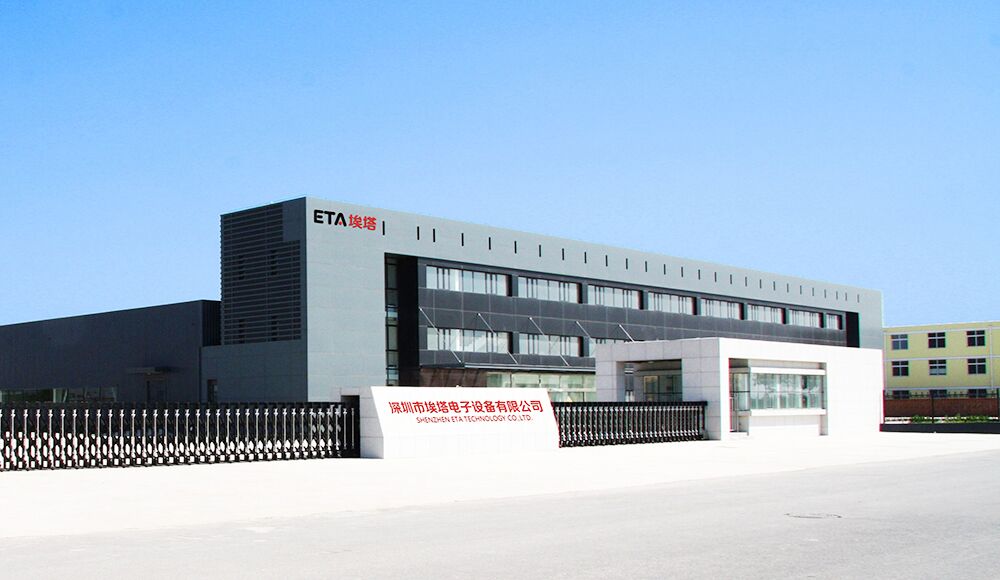 ETA is the SMT machine supplier with professional 25-year-experienced sales and after sales team, providing SMT solutions including pick and place machine, reflow oven, SMT stencil printer, SMT line and wave soldering machine.
We also is the partner of JUKI pick and place machine and Hanwha/Samsung pick and place machine, can provide the best SMT technical services and accessories support for JUKI, HANWHA/SAMSUNG, YAMAHA, PANASONIC brands.
Successful Experience:
Eta's Customer In 35 Countries Around the World
1. We Have Been Helping Customers To Build a Lot of New Factories Around the World.
2. Training More Than 500 Experts and Technician for Customers.
3. Became the Most Reliable Chinese Partner for You.
For SMT Factory Setup, We Can Do for You:
1. We Provide Full SMT Solution for You
2. We Provide Core Technology With Our Equipments
3. We Provide The Most Professional Tech Service
4. We Have Wealthy Experience on SMT Factory Setup
5. We Can Solve Any Question About SMT
❙ ETA Exhibition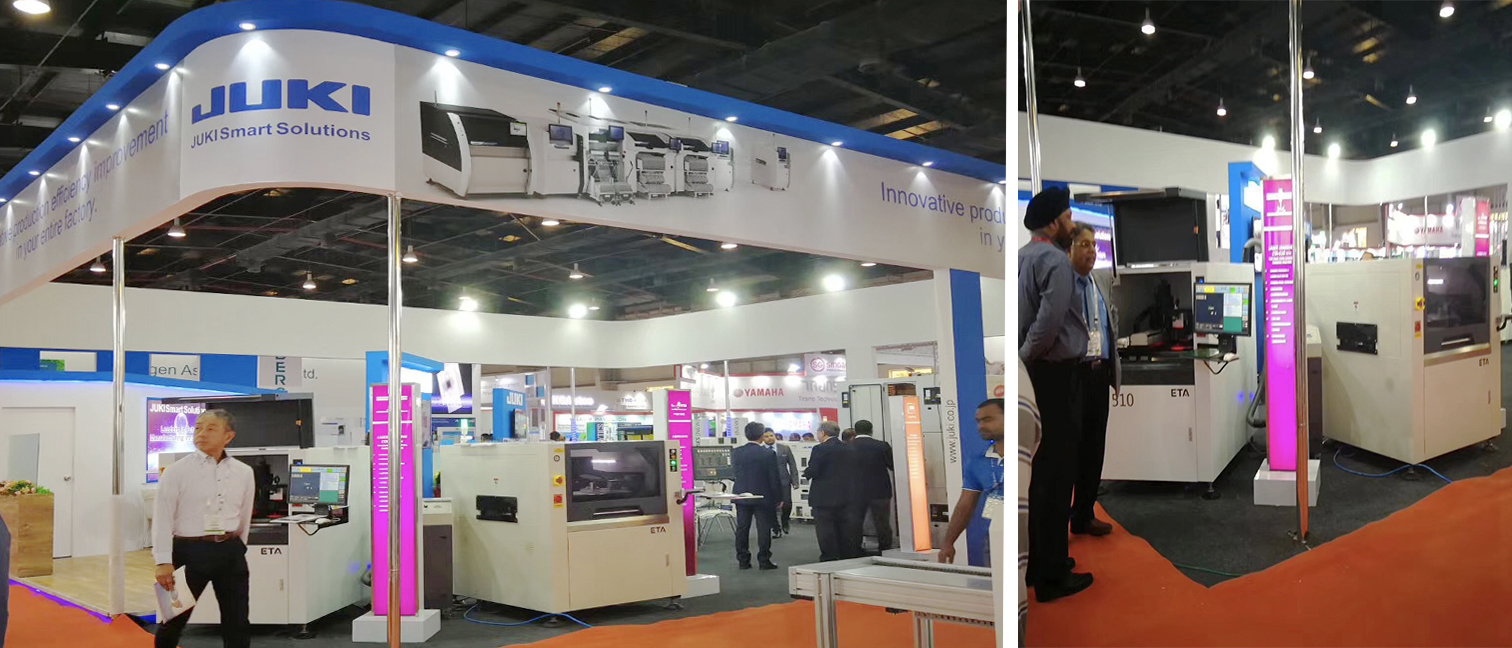 ❙ DIP On-Line AOI Certificate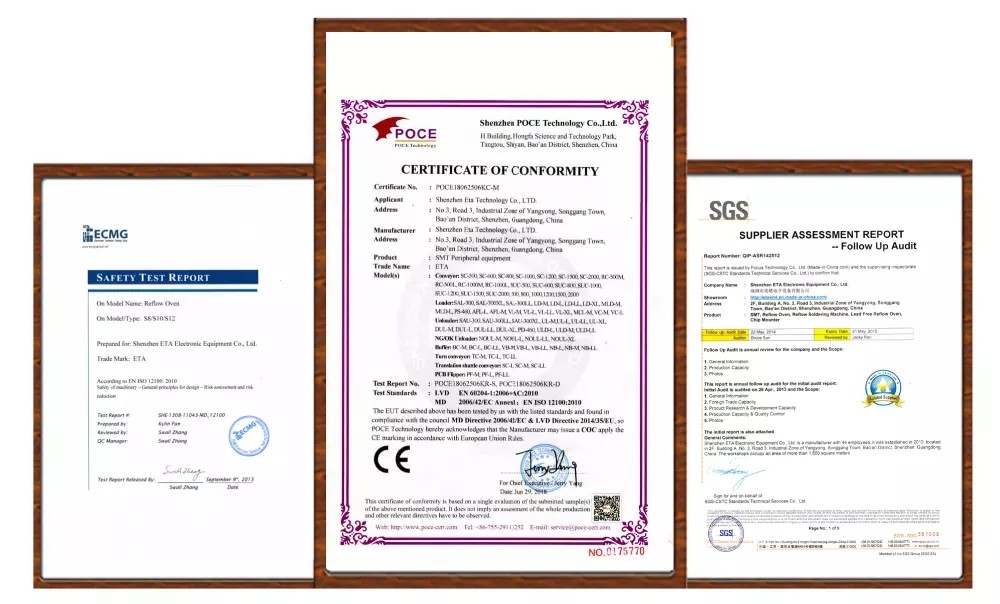 ❙ ETA Global Service
❙ Customers' Feedback
❙ FAQ
Q: What we can do for you?
A: Total SMT Machines and Solution, professional Technical Support and Service.
Q:Are you a trade company or a manufacturer?
A: OEM & ODM service are available.
Q: What is your delivery date?
A: The delivery date is about 35 days after receipt of payment.
Q: What is your payment terms?
A: 30% deposit in advance and 70% balance before shipment.
Q: What your main customers?
A: Huawei,Foxconn,Vtech,Sumida,Kemet,Vishay,Bosch,Canon.
Q: Why choose us?
A: Leading SMT Supplier in China; Trade assurance to USD 560,000+; Professional after-sales service team.
❙ Packaging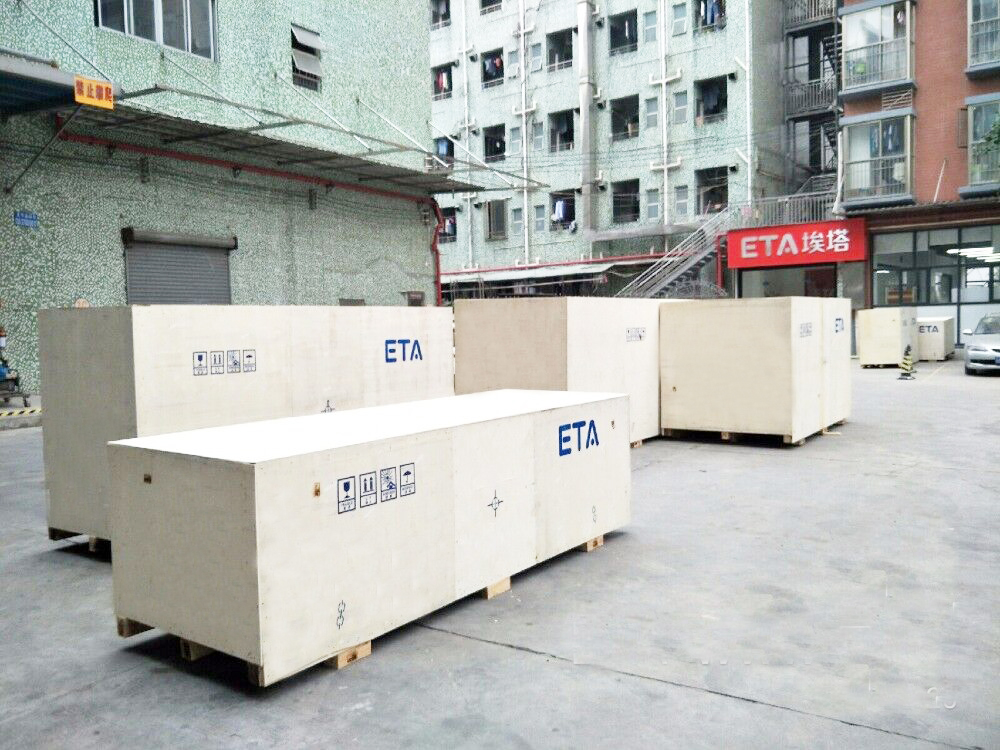 View SMT Off-line AOI Machine ETA-V8
SMT Off-line AOI Machine ETA-V8 was added in Jan 2021
SMT Off-line AOI Machine ETA-V8 has been viewed 668 times
20 More Products from I.C.T ( Dongguan Intercontinental Technology Co., Ltd. )
: