neoden4 small batch production line,pick and place machine,solder printer PM3040,reflow oven T5,automatic smt prototype line
| | |
| --- | --- |
| Name: | neoden4 small batch production line,pick and place machine,solder printer PM3040,reflow oven T5,automatic smt prototype line |
| Category: | |
| Offered by: | |
| | |
neoden4 small batch production line,pick and place machine,solder printer PM3040,reflow oven T5,automatic smt prototype line Description:
neoden4 small batch production line,pick and place machine,solder printer PM3040,reflow oven T5,automatic smt prototype line

This link include :

High precision printer PM3040*1+Pick and place machine NeoDen4*1+working table +Reflow oven T5

+Conveyor J08
Application:
This production line meets the needs of smll batch production and processing company.
Step 1:Solder printer PM3040--Print solder paste on PCB
Step 2:Pick and place machine-Mount component on PCB
Step 3:Reflow oven-Soldering component on PCB
Pls check the size carefully and make sure if they are suit for your PCB,we also have bigger solder printer and reflow oven.
If need online talk
NeoDen4 Features
1.Vision system
An up-looking camera and a down-looking camera identifies and calibrates the different components simultaneously, and tremendously improves the accuracy of placement from 0201 to BGA.
2. Four precision heads
4 high-precision placement heads with ±180° rotation that adopts suspended, fully symmetric and high degree of coupling way, to ensure it can mount components with higher space, more gentle and more accurate
3. Auto Electronic Feeders
Adopts feeding error corrections technique to help smooth the picking and reduce the deviation.
4.Auto Rails Achieve Continuous Placement
1.5m auto rails could be connected with universal conveyors to achieve continuous placement.
5.General conveyor is supported
With a conveyor port, One-Stop SMT production line can be setup, which is more time-saving and labor-saving.
6. Supports remote system upgrade
NeoDen will provide a life-long technical service and system upgrade.
7. Industrial PC motherboard
32G solid state drives, read/write faster and more stable, with power-off protection function.
2.

2.Technical Parameters

3. Nozzles Information

Total six types of nozzles can be provided, but the standard accessories only include 4 types, 6 pieces

Please let us know if you want to add other types, just make sure not beyond 6 pieces, pls let me know and check the cost for you.
4. Standard Accessories
1) Pick and Place Machine NeoDen4: 1
2) Nozzle: Totally 6
3) 8G Flash Drive: 1
4) Power Cord(5M): 1
5) Video training course: 1
6) Double Sided Adhesive Tape: 2
7)Allen wrench Set:5
8)Tool Box:1
9)Reel holder stand:1
10)Vibration Feeder:1
11)Rail Parts:4
12)User Manual:1
5. PM3040 Stencil Printer
| | |
| --- | --- |
| Items | PM3040 |
| Dimensions | 580×320×260(mm) |
| Platform Size | 300×400(mm) |
| PCB Size | 250×300(mm) |
| Template Size | 370×470(mm) |
| Printing speed | Labor control |
| PCB Thickness | 0~100(mm) |
| PCB Tuning range | Front/ Side +10mm |
| Platform height | 180(mm) |
| Repeatability | ±0.01mm |
| Positioning mode | Outside/Reference hole |
| Fine Adjustment Range | Z-axis ±45mm X-axis ±35mm Y-axis ±45mm |
| Weight | 14Kg |
6. T5 desktop Reflow oven
Length*Width*Height (mm):1700*612*650
N.W(KG) :120
Peak Power(KW):7
Working Power(KW):3
Input Voltage(V):220/380
Conveyor Width(mm):300
Standard Max Height (mm):20mm; Customized Max height(mm): 55mm Max Speed of Conveyor (mm):1200
Packing Size:190*70*68CM
Gross Weight:150KG
7.Conveyor J08
Power Supply: Single Phase 220V 50/60HZ 100W
Conveyor Length: 80CM
Conveying Belt: ESD belt
Conveying Speed: 0.5 to 400mm/min
Packing Size (cm): 87*72*24
Packing Size (cm): 30-300
PCB available length (mm): 50-320
G.W. (kg): 49
8.Working table for NeoDen4
Warranty:
The complete machine has a warranty period of TWO years for NeoDen4,One year for PM3040+T5 from the time of purchase and lifelong service support as well as a long-term factory price supply. We provide online Q/A and trouble shooting support and technical advice service.
One Stop SMT Production Supplier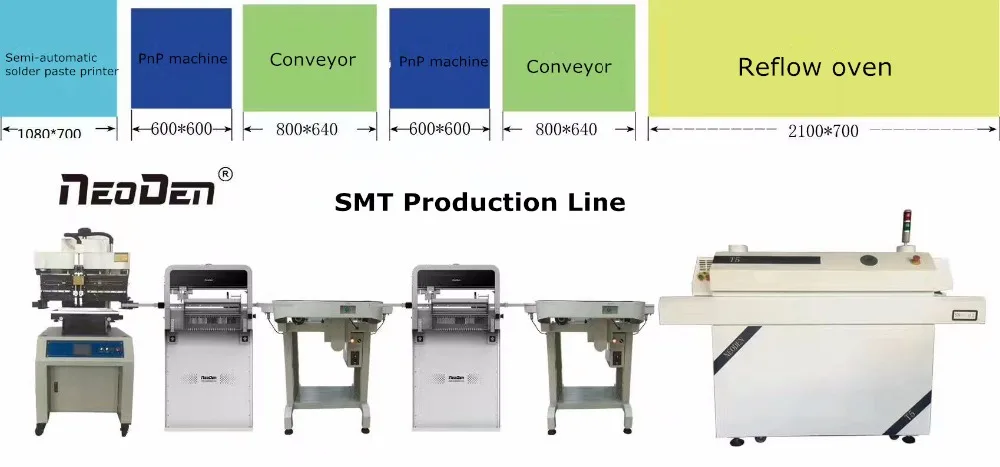 neoden4 small batch production line,pick and place machine,solder printer PM3040,reflow oven T5,automatic smt prototype line was added in Jul 2018
neoden4 small batch production line,pick and place machine,solder printer PM3040,reflow oven T5,automatic smt prototype line has been viewed 779 times
20 More Products from NeoDen Tech Co.,Ltd. :