HR-300 REFLOW OVEN DARK IR PLUS AIR CIRCULATION
HR-300 REFLOW OVEN DARK IR PLUS AIR CIRCULATION Description:
Hot Air Reflow oven HR-300
The HR-300 is an extremely user-friendly convection oven suitable for lead-free SMD soldering of printed circuit boards.
It has many advantages especially fully controlled reflow cycle in closed oven!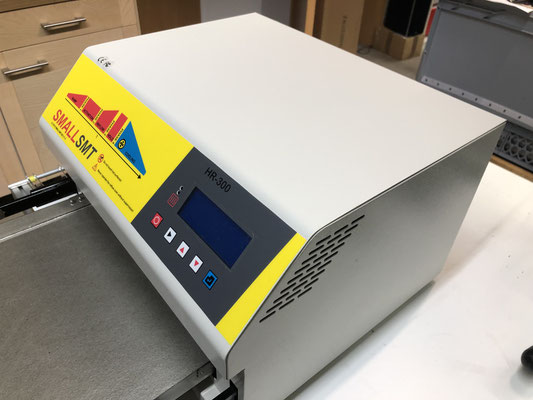 HR-300 functional description:
---
The special feature of this reflow oven is that the complete cycle takes place in a closed oven.
We have 2400W heating power and hot air circulation to ensure even heat distribution.
Even complicated components like GPS antennas or BGA's can be soldered very well.
As this reflow oven has an exhaust fan, the exhaust gases can be exhausted from the room via a 100mm hose.
All parameters are easy to set and only the temperature to be reached and the dwell time have to be set.
The duration of the heating phase is dynamic until the target temperature is reached, then the fixed holding time expires.
A special feature is the controlled cooling which also reheats when the temperature drops too quickly.
Our HR-300 reflow oven is the perfect solution for prototype production and as a supplement to a vapour phase.
The constant temperature mode can be used to bake components!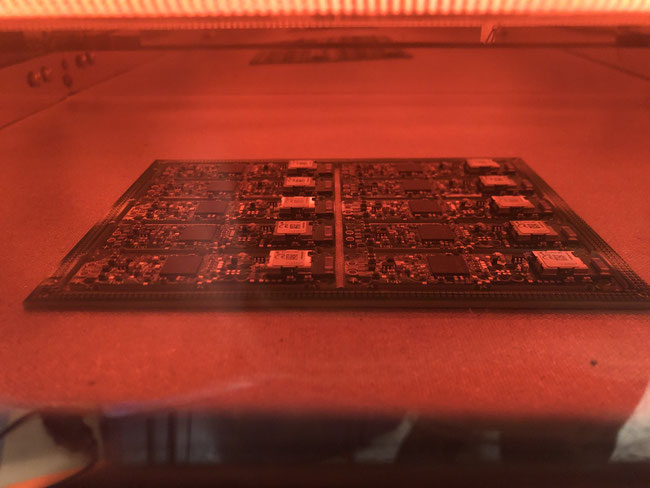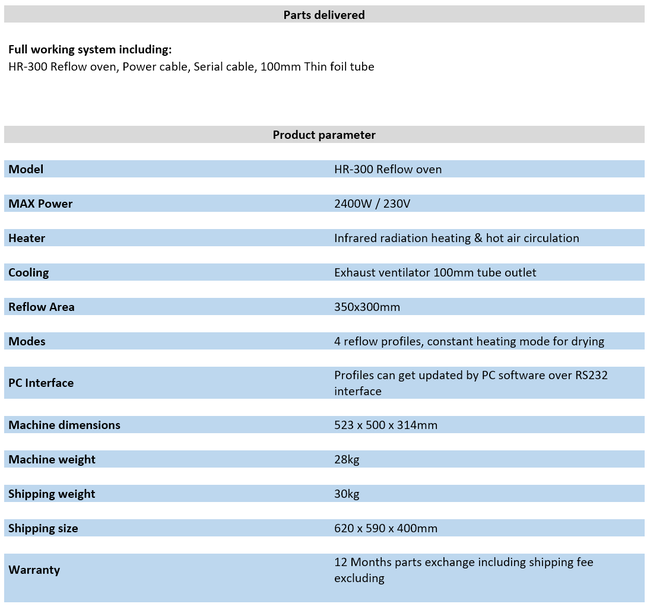 View HR-300 REFLOW OVEN DARK IR PLUS AIR CIRCULATION
HR-300 REFLOW OVEN DARK IR PLUS AIR CIRCULATION was added in Apr 2021
HR-300 REFLOW OVEN DARK IR PLUS AIR CIRCULATION has been viewed 27 times
6 More Products from SMALLSMT Wenzhou SMALL Technology co. ltd
: