Multifunction Electronics X Ray Machine , BGA X Ray Inspection System For Battery Industry
| | |
| --- | --- |
| Name: | Multifunction Electronics X Ray Machine , BGA X Ray Inspection System For Battery Industry |
| Category: | |
| Offered by: | |
Multifunction Electronics X Ray Machine , BGA X Ray Inspection System For Battery Industry Description:
X-Ray Inspection Machine Electronics BGA Standard Multifunction
Unicomp Technology has a dedicated pool of local and foreign senior professional R & D engineers with extensive experience in high level science and technology. The company is undertaking major national special project (namely "02" project and "863" project) and X-ray detecting equipment R&D in new fields of application. It also works closely with The Chinese academy of sciences, Tsinghua University etc. to advance the core technology of X-ray imaging. Presently Unicomp has submit a total of 256 patents with 199authorized. Unicomp has obtained numerous management system certification, such as ISO 9001 quality management system, ISO 14001 environmental management system, OHSAS18001 occupational health & safety management system, as well as ISO27001 information safety management system.
The AX-8200 machine is designed to provide high resolution x-ray imaging primarily for the electronics industry. This versatile system is effective for many applications within the PCB manufacturing process. This includes BGA, CSP, QFN, Flip Chip, COB and the wide range of SMT components. The AX-8200 is a powerful support tool for process development, process monitoring and refinement of the rework operation. Supported by a powerful and easy to use software interface, the AX-8200 is capable of addressing small and large volume factory requirements. (Contact us for details)

Applications:
BGA , CSP , LED , Flip Chip , Semiconductor,
Battery Industry , Small Metal Casting,
Electronic Connector Module,
Aerospace Components , Photovoltaic Industry,
Other Special Industries.
Item

Definition

Specs

System Parameters

Size

1080(L)x1180(W)x1730(H)mm

Weight

1150kg

Power

220AC/50Hz

Power Consumption

0.8kW

X-ray Tube

Type

Closed

Max.Voltage

90kV/100kV

Max.Power

8W

Spot Size

5μm

X-ray System

Intensifier

4"Image Intensifier

Monitor

22"LCD

System Magnification

600x

Detection Region

Max.Loading Size

510mm x 420mm

Max.Inspection Area

435mm x 385mm

X-ray Leakage

< 1uSv/h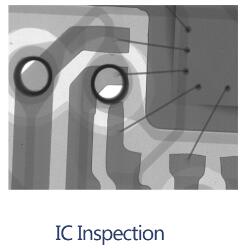 Tag:electronics x ray system,  x ray equipment
Multifunction Electronics X Ray Machine , BGA X Ray Inspection System For Battery Industry was added in Jul 2019
Multifunction Electronics X Ray Machine , BGA X Ray Inspection System For Battery Industry has been viewed 115 times
16 More Products from Unicomp Technology Co., Ltd :