*In stock* Honeywell 38500143-200
| | |
| --- | --- |
| Name: | *In stock* Honeywell 38500143-200 |
| Category: | |
| Offered by: | |
*In stock* Honeywell 38500143-200 Description:
⁅ Email: dcsfcs996@gmail.com ⁆
⁅ Wechat id:dcsfcs ⁆
⁅ Skype:+86 18106909650 ⁆
⁅ Mobile:+86 18106909650 (Whatsapp) ⁆
We will have stock if you need more brand models. Please send us your request by mail or telephone.
---
Reliable global supplier of industrial spare parts(Amikon)
Qaulity • Price • Species
We have been working in the field of industrial automation for more than a decade.
To ensure high quality, all accepted products are inspected.
High quality products and services make the company grow steadily.
Better supply chains and economies of scale give most products a price advantage.
If you find the same parts from any other suppliers cheaper than us , we will try to match that the same price,or provide you with a further discount.
If you inquiry more than one piece/item, please let us know, because we can arrange discount for you.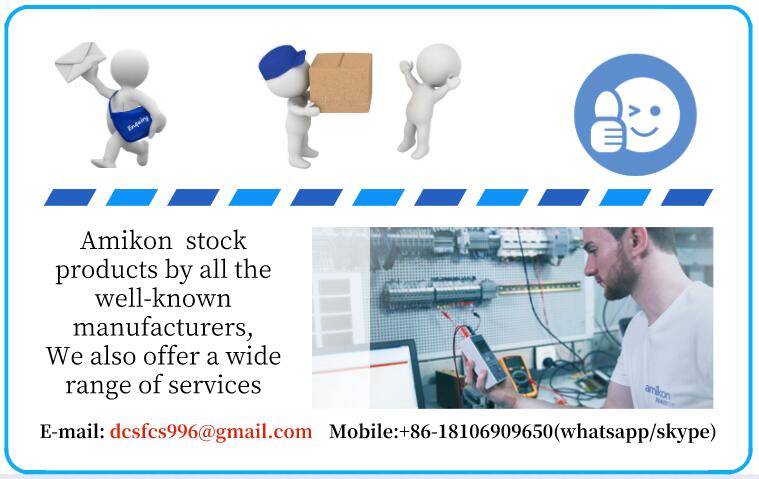 ---
Amikon teamwork and positive attitude that results in customer satisfaction.
Focus on product lines that provide opportunities for value-added services.
---
Amikon Limited specializes in global famous brand PLC modules ,DCS,and industrial automation parts sales,such as:
Bently Nevada | ABB | Allen-Bradley | ICS | TRICONEX | Honeywell | Foxboro | GE | Siemens | Moore | Emerson | Ovation | Westinghouse | Epro | Yokogawa | Yaskawa | Schneider | HIMA | B&R | Woodward
| | | |
| --- | --- | --- |
| Honeywell CC-TCF901 | Siemens 6ES7953-8LJ31-0AA0 | TSI System 3500/05 |
| Honeywell CC-TCNT01 | Siemens 6ES7923-0BA50-0CB0 | TSI system 3500/15 |
| Honeywell CC-TAOX11 | Siemens 6ES7321-1BH02-0AA0 | TSI system 3500/61 |
| Honeywell CC-TAIX01 | Siemens 6ES7334-0KE00-0AB0 | TSI System 3500/25 |
| Honeywell CC-TAIX11 | Siemens 6ES7307-1EA01-0AA0 | TSI system 3500/33 |
| Honeywell CC-TD0B11 | Siemens 6ES7390-1AE80-0AA0 | TSI system 3500/34 |
| Honeywell CC-TDOR11 | Siemens 6ES7921-3AB00-0AA0 | TSI System 3500/40M |
| Honeywell CC-SDOR01 | Siemens 6ES7322-1BH01-0AA0 | TSI System 3500/42M |
| Honeywell CC-TDIL01 | Siemens 6ES7155-6AU01-0BN0 | TSI system 3500/45 |
| Honeywell CC-PAIH01 | Siemens 6ES7193-6BP00-0BA0 | TSI system 3500/50 |
| Honeywell CC-PA0H01 | Siemens 6ES7193-6BP00-0DA0 | TSI system 3500/53 |
| Honeywell CC-PDIL01 | Siemens 6ES7134-6GD01-0BA1 | TSI system 3500/60 |
| Honeywell CC-PD0B01 | Siemens 6ES7134-6HD01-0BA1 | TSI System 3500/62 |
| Honeywell CC-PAOH01 | Siemens 6ES7331-7SF00-0AB0 | TSI system 3500/63 |
| Honeywell CC-PDOB01 | Siemens 6ES7214-1BG40-0XB0 | TSI system 3500/64M |
| Honeywell CC-PAIH02 | Siemens 6ES7131-6BH00-0BA0 | TSI system 3500/65 |
| Honeywell CC-PCF901 | Siemens 6AV2124-0UC02-0AX1 | TSI system 3500/70M |
⁅ Email: dcsfcs996@gmail.com ⁆
⁅ Wechat id:dcsfcs ⁆
⁅ Skype:+86 18106909650 ⁆
⁅ Mobile:+86 18106909650 (Whatsapp) ⁆
*In stock* Honeywell 38500143-200 was added in Jun 2022
*In stock* Honeywell 38500143-200 has been viewed 11 times
20 More Products from Moore Automation :