Honeywell/ MU-TDOA13/51304648-175 Best choice and best discounts
| | |
| --- | --- |
| Name: | Honeywell/ MU-TDOA13/51304648-175 Best choice and best discounts |
| Category: | |
| Offered by: | |
| | |
Honeywell/ MU-TDOA13/51304648-175 Best choice and best discounts Description:
Amikon to the "professional, integrity, innovation, cooperation, win-win" business philosophy, and constantly develop new products, to provide quality services, in order to maximize the pursuit of customer satisfaction, and constantly open up new areas of business for customers.
Sales Manager :Yuki
Email:sales15@amikon.cn
WhatsApp|Phone: 86 17359287459
Sky:live:498b014e476a7ffd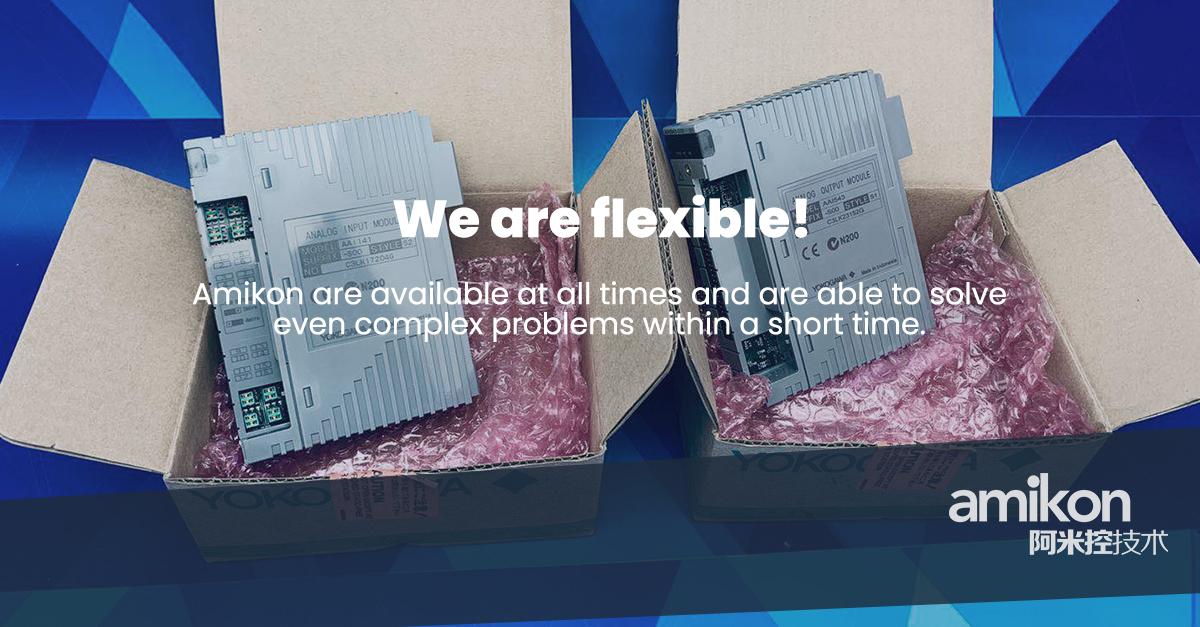 Serves
Quantity available: 1
Warranty: In excellent condition 12 months.
Lead time: 1-2 working days.
Terms of payment:T/T.
NEW AND ORIGINAL FACTORY INDIVIDUAL INNER SEALED PACKAGE BOX AS PER PRODUCT SIZE

​
Emerson
·DeltaV : KJ3002X1-BB1 12P0683X082 , KJ3221X1-BA1 12P2531X132 VE4035S2B1
·Ovation : 1C31132G01 , 1C31234G01 , 5X00058G01 , 5X00167G01,1C31194G01
·EPRO :MMS6210, UES815S, MMS6823 , PR9376/010-011, PR6426/010-010
General Electric
·GE 90-30 Series PLC : IC693CPU364 , IC693MDL330 , IC693PWR330 , IC693CPU374,
·GE 90-70 Series PLC : IC697ALG321 , IC697CMM741 , IC697CPU782 , IC697PWR711,
·GE Genius I/O : IC660BBD025 , IC660CBB902 , IC660EBS103, IC660ELB912G
·GE Mark VIe : IS215UCVEH2A , IS200EPCTG1A , IS200TRPGH2B , IS200DSPXH1D
·GE Multilin : VMIPCI-5565-110000, MMII-PD-1-2-240 ,369-HI-R-M-0-0 ,745-W2-P5-G5-HI-A-R-E
·GE PACSystems RX3i : IC695CPU315 , IC695CPE310 , IC695ACC402 , IC695ALG626
·GE PACSystems RX7i : IC698CRE030 , IC698CPE020 , IC698PSA100 , IC698CPE010
·GE Series One : IC660BBD022, IC660BBR100 , IC660CBB902 ,IC660BBD025
​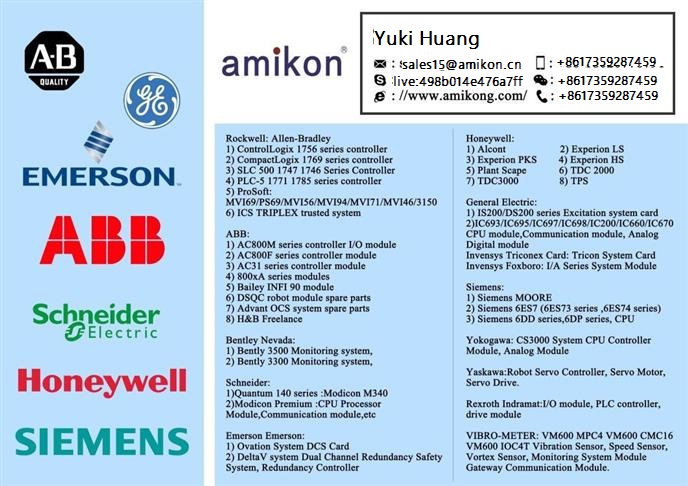 Email:sales15@amikon.cn

​
If you need anything, we are able to solve your defect part or exchange, welcome inquiry!
​
​
GE IS200BICIH1ADB
ABB DCS401.0045
GE IS215UCVDH5A UCVDH5A
GE 531X213DIOAGG1/F31X213DIOAFG1
EMERSON CT DBE420
Allen Bradley 1785-BCM 1785-BCM C
6FM1706-3AB10+6ES5491-0LB11
A06B-6047-H201 A06B6047H201
ABB AC800F PM802F /3BDH000002R1
Honeywell/ 51401583-100
SIEMENS/ 6FC5501-0AB11-0AA0
Sinumerik 805 6FC4100-1AA00-Z component
ABB DSSR-122
A16B-3200-0362
Bailey ABB IMMFP12
AB 1394C-SJT10-D
REXROTH DKCXX.3-200-7
3RW34 D84066-801 D81261-016
BENTLY NEVADA 3500/42M
SICOMP PC32-F CPUCP-S26361-D674-V
ABB DCS PM151 / 3BSE003642R1
ABB DSCS 140 /57520001-EV
OP35/6AV3535-1TA01-0AX0
ABB DCS PM153 / 3BSE003644R1
RELIANCE ELECTRIC 57552-C
BENTLY NEVADA 3500/45
ABB PHARPS32200000
ABB ACS600 ACN6340025300000300900
6SC9811-4CH00+PC612-B1200 / 6SC3650-0FG02-Z+6SC9811-4CK02
AB 1394-SJT10-T-RL
FANUC A20B-1003-0020/A06B-6062-H212/A16B-1300-0170
140 PLC 140CPU43412A
1006-0625-43-54
OKUMA 1006-0625-43-54 /I006-0625-43-54
6AV7501-0BA00-0AA0 99
6AV6542-0CC10-0AX0
ABB DCS DSDX 451 /5716075-K/DSDX-451 EXPANSION I/O MODULE
6FC5503-0AC00-0AA0
OKUMA 1006-0612-41-08 /I006-0612-41-08
ABB Bailey LPS01
NSK EXEA1-0010AF1-03
AB 1771-DMC1/A
KHS PCS9000/00638-F3+PCS8010/00710-F4+PCS8100/00722-K6
GE DS200UCIAG1ACB+IC660ELB912G
AB Allen-Bradley 6181P-15TPXP
Lexium17SHPMHDA1112N00
BAILEY ABB INPCT01
ABB DCS PM152 / 3BSE003643R1
3500/40M
SIEMENS/ 7KE4490-2BG
FAGOR LE 8000 LE8000
EEI 82U31350 350A
B&R 5D2510.10+5C2001.22
ABB IMHSS03
PLC MICREX-F
EEI 82B21200 200A
AIP444-S1
YOKOGAWA DCS AIP444-S1
6ES5955-3LC14 135,928,526,420,441
UniTek 402 TVD6-200-10 /TVD6-200-10 IN
ABB PP245 3BSC690103R1
Schneider Modicon TXBTF024311E magelis
SCHNEIDER ELECTRIC TXBTF044510E WINDOWS95
621-0025RC
Honeywell/ MU-TDOA13/51304648-175 Best choice and best discounts was added in Oct 2020
Honeywell/ MU-TDOA13/51304648-175 Best choice and best discounts has been viewed 19 times
20 More Products from Amikon plc :