Coating Photoresist Onto MEMS
New UAM6000 Ultrasonic Coating System is ideal for coating Photoresist onto MEMS and deep well topographies as well as other uniform coatings such as TCO layers, CNTs, polymers, AR, CIGS, and more.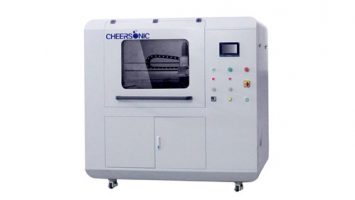 The automated ultrasonic XYZ coating system has been designed for precision electronics manufacturing or R&D. The UAM6000 Ultrasonic Coating System is an economical system for coating thickness from 50nm to100 um. Designed for precise spray processes where high precision, control, and uniformity is required, the system includes uniform and repeatable thin-film coverage of plus or minus two percent. In addition, the system also has a user-friendly touch screen control system.
The programmable XYZ motion system offers a spray area of 14x14" with controllable drop size depending on nozzle frequency (30-120kHz). The integrated ultrasonic nozzles provide up to 80 percent reduction in material consumption, non-clogging performance, and precise, targeted spray patterns. Several liquid delivery options are available depending on the flow rate, and several spray shaping options are available, depending upon coating requirements.
Cheersonic's ultrasonic coating systems can be easily be scaled to higher volume production scale equipment. For more information about the UAM6000 Ultrasonic Coating System, visit https://www.cheersonic-liquid.cn/en/uam6000-ultrasonic-spray-coating-system/
---
About Cheersonic
Cheersonic is the leading developer and manufacturer of ultrasonic coating systems for applying precise, thin film coatings to protect, strengthen or smooth surfaces on parts and components for the microelectronics/electronics, alternative energy, medical and industrial markets, including specialized glass applications in construction and automotive.
The Company's solutions are environmentally-friendly, efficient and highly reliable, and enable dramatic reductions in overspray, savings in raw material, water and energy usage and provide improved process repeatability, transfer efficiency, high uniformity and reduced emissions.
Cheersonic's growth strategy is focused on leveraging its innovative technologies, proprietary know-how, unique talent and experience, and global reach to further develop thin film coating technologies that enable better outcomes for its customers' products and processes. For further information, visit https://www.cheersonic-liquid.cn/en/.