ADEPT TECH 10330-0400 INTERFACE BOARD
| | |
| --- | --- |
| Name: | ADEPT TECH 10330-0400 INTERFACE BOARD |
| Category: | |
| Offered by: | |
ADEPT TECH 10330-0400 INTERFACE BOARD Description:
Who We Are
Amikon Limited is an international company with many PLC DCS products.
We had emerged from a local engineering company with a single staff that provided solutions in factory automation to become nowadays a company that serves the Oil & Gas industries, EPC contractors, System Integrators and other industrial automation and process control companies worldwide.
Sales Manager :Yuki
Email:sales15@amikon.cn
WhatsApp|Phone: 86 17359287459
Sky:live:498b014e476a7ffd
​
More Products
----(DCS)Distributed Control System
ABB 3AUA0000110429 SYSCON2 746924
Invensys Foxboro FBM214 FBM242 B0123HE
Invensys Triconex 3625 3700A 3604E
Ovation 5X00481G01
Woodword 5462-758B
HIMA F2-DO-16-02 F8650E
Yokogawa SAI143-S03 S1 F9342L-02
Honeywell 51402497-200 51403519-160 51199194-100 CC-PDO801 51405043-175
Emerson KJ4001X1-NB1 12P3368X012
----(PLC)Programmable Logic Controller
Rockwell Allen-Bradley 1734-IB8 1734-OB8 1769-L18ER-BB1B 1756-IM16I 2711P-T6C20D8
ICS Triplex T8461 T8850 T8403 T8431 T8831 T8310
Schneider Modicon 140DDI85300
GE Fnauc IS210AEPSG2B IS220UCSAH1A IS215ACLEH1A IS210AEAAH1B
Siemens 6ES7331-1KF02-0AB0
Prosoft MVI46-DFNT
Bachmann MPC240
Woodhead 9905-068 2301A
----(TSI)
Bently Nevada 3500/22M 138607-01 3500/25 3500/32M 149986-02 3500/53 3500/40 125860-01
EPRO MMS6110 MMS6120 MMS6220 MMS6312 MMS6410 6423 6424 MMS6822 ues815s
ENTEK EK C6622HS XM124 1440-SDM02-01RA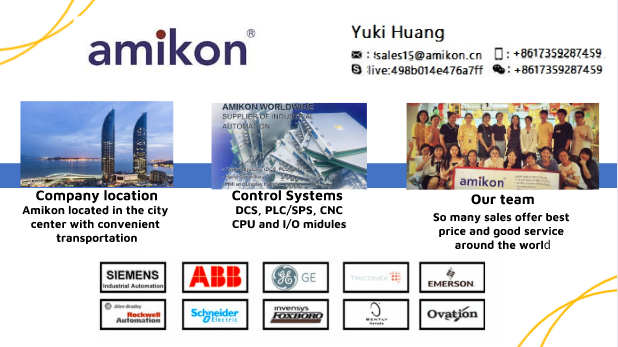 Stock Goods with Charming Price waiting for you !
| | |
| --- | --- |
| Bently Nevada | 1900/27 |
| PHILIPS | LD5001M |
| PHILIPS | LD5004 |
| AB | 2711-B5A1/H |
| Bently Nevada | 330106-05-30-10-02-00 |
| Bently Nevada | 330103-00-05-10-02-00 |
| Bently Nevada | 330130-080-00-00 |
| Bently Nevada | 330130-035-00-CN |
| Bently Nevada | 330130-040-00-CN |
| Moore | 16436-1-03 |
| REXROTH SIEMENS | 9AC9100-0AA10 |
| Allen Bradley | 2711PC-T10C4D8 |
| ABB | AI620 |
| Bently Nevada | 3500/42M |
| Trusted | T8231 |
| GE | UR 8FH |
| GENERAL ELECTRIC | 170180-01-00 |
| ABB | AI635 |
| ABB | AI625 |
| ABB | DO630 |
| ABB | DI650 |
| ABB | AI620 |
| ABB | HEIR 445976 R1 UN 0950A-P |
| ABB | DSCS 150 |
| GE FANUC | TGT-3X6L-1-0-BD |
ADEPT TECH 10330-0400 INTERFACE BOARD was added in Sep 2020
ADEPT TECH 10330-0400 INTERFACE BOARD has been viewed 6 times
20 More Products from Amikon plc :